When you travel to Stockholm, you should definitely visit Vaxholm island with lovely town known as The 'Capital of Stockholm's Archipelago'. You will get wonderful archipelago experience, close but yet so far from Stockholm.
We would like to share with you few ideas what to do in Vaxholm. Vaxholm which is one of the most popular islands in all of Sweden, and often referred to as the Capital of the Archipelagos. Even if you're in Stockholm just for a short city break, it's definitely worth to take a day trip into the amazing archipelago.
The Stockholm Archipelago consists of some 30,000 islands, islet and rocks. While the archipelago is one of Stockholm's most beloved tourist attractions, it's also home to many people. Estimated number of 4,000 people live on the main islands. The picturesque panoramas of archipelago may seem distant from the city. Yet they're only a short trip away from the heart of Stockholm.
Vaxholm bucket list: the best things to see and do in Stockholm Archipelago and Vaxholm
Check our recommendations on what to see in Vaxholm. Whether you are a family, a group of friends, a company team or a school class there is plenty to experience. We are happy to recommend you some of our favorite places and activities in Stockholm Archipelago. Explore hidden gems and let the archipelago delight you with the islands views, the beautiful sea, wonderful people, and abundance of recreational opportunities. If you have the time, stay for a while, you won't regret it.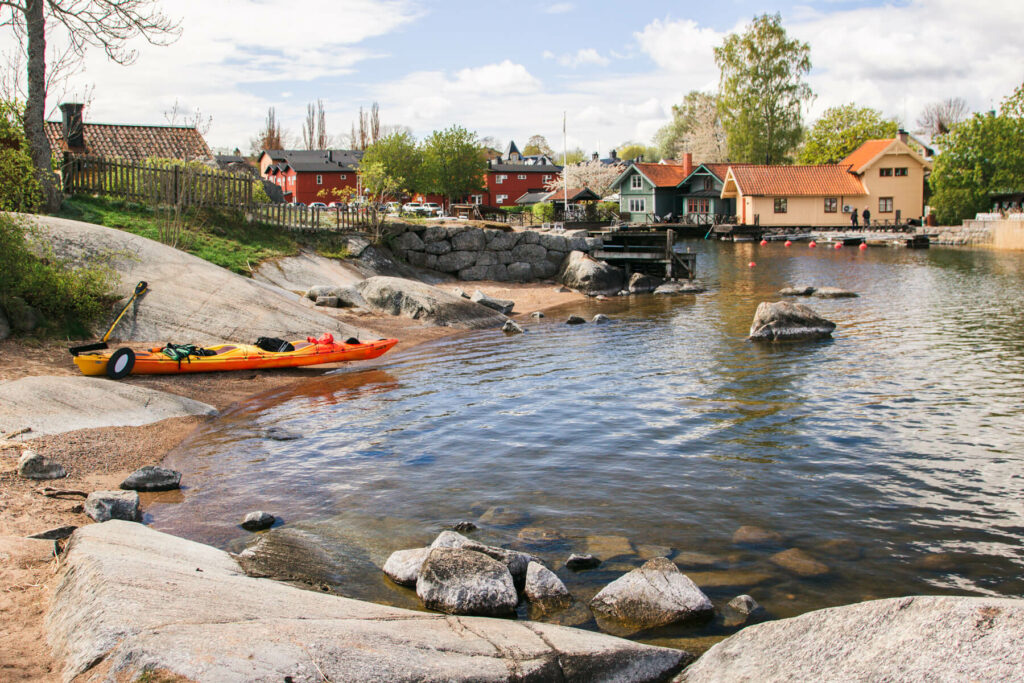 Vaxholm Norrhamnen (North Harbor)
Traditional fishing cottages located in the north harbor on Vaxholm. Don't miss also museum about fishing history of Vaxholm and summer cafe Hembygdsgården known for its homemade cakes and pastries.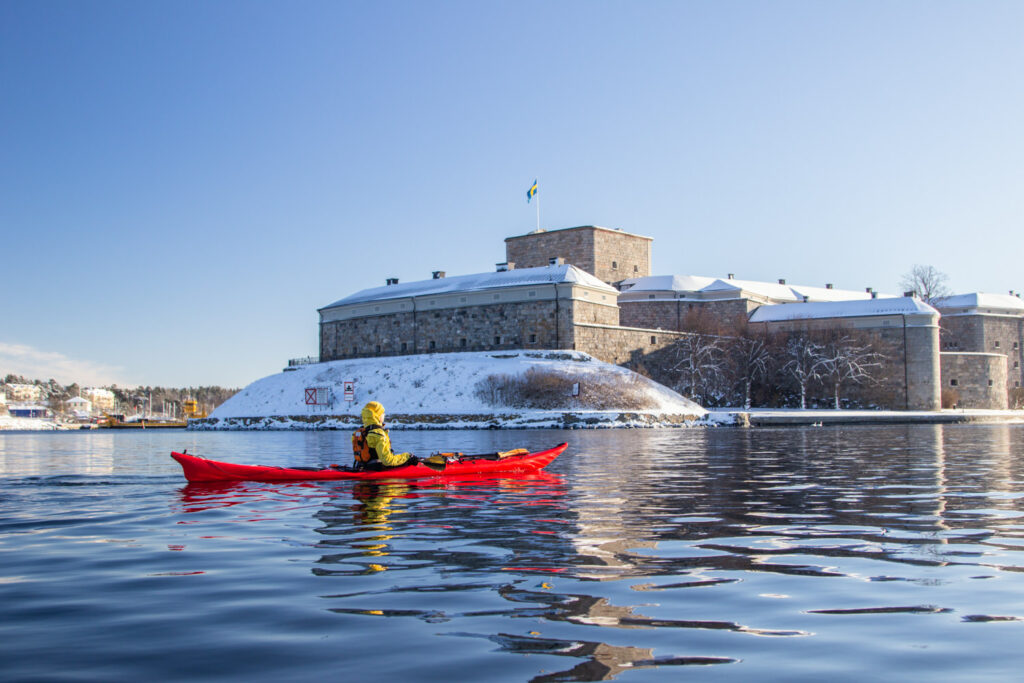 Vaxholm Fortress (Vaxholms Fästning)
The Vaxholm Citadel dating back to the 1500s and built by King Gustav Vasa. Located between Vaxholm and Rindö, was used to defend Stockholm.
Vaxholm fortification line
Vaxholm line was built to defend approaches to forts and batteries of Vaxholm fortress from the land, from Värmdö. Between 1914 and 1925 it was the main fortress line in the Stockholm archipelago. Consists of 23 battery and mining locks.
The archipelago boats day (Skärgårdsbåtens dag)
A folk party in Vaxholm, which has been organized annually in June since 1964. A number of steamboats and other archipelago vessels depart from Strömkajen in Stockholm at 18, following a traditional signal by the steam whistles. The vessels make a joint trip to Vaxholm. In Vaxholm you can join a harbor party with a live orchestra music and archipelago market. Later in the evening the vessels return to Stockholm.
Vaxholms Skärgårdsmarknad (Archipelago market)
A real Archipelago market with crafts and natural products and traditional rowing competition in old fishing boats. It takes place on the third Saturday in August (2020 Saturday, August 15) each year. The program includes the traditional Strömmingsrodden – rowing competition around Vaxholm in fishing boats, music entertainment and many market stands with local products from the islands. The Strömmingsrodden is a cultural – historical rowing competition with fishing boats around Vaxholm island. The start is from Norrhamnen and the finish is in Söderhamnen. The rowing takes about an hour.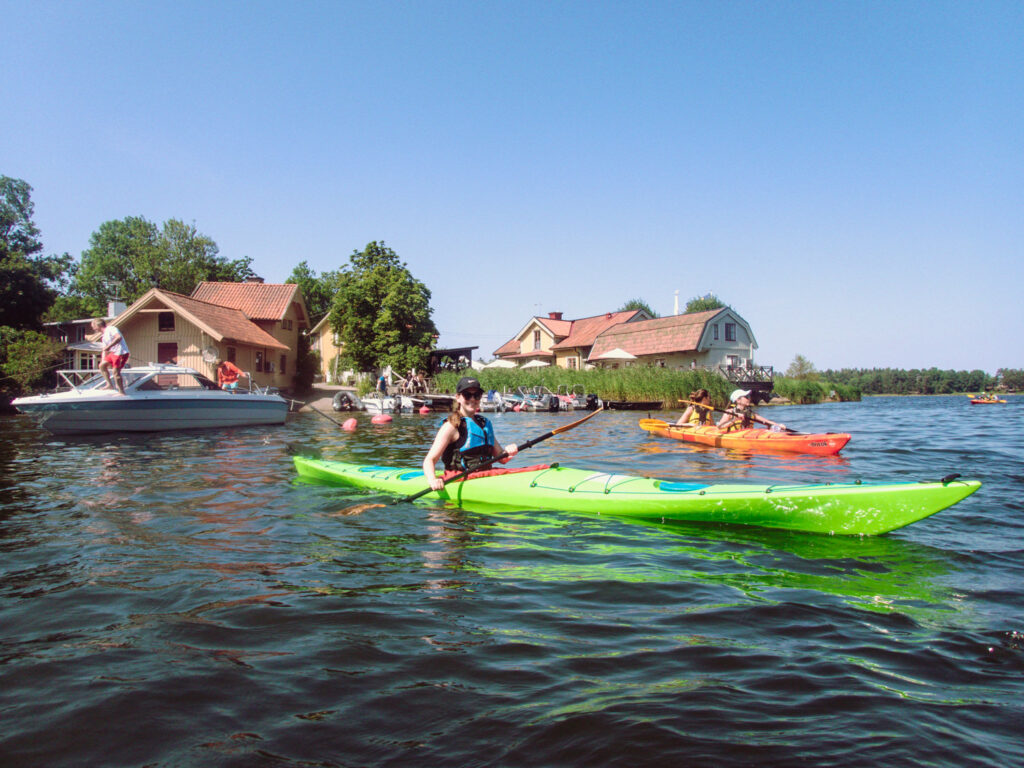 Kayak tour around Vaxholm
Kayaking is the best way to explore Stockholm Archipelago. Skip hassle of the city and paddle around Vaxholm. Experience outstanding nature, plenty of wildlife while kayaking and enjoying Swedish fika into the wild. In the summer season we do guided tours everyday. Feel more than welcome to join!… or why not pick own island to make it home for the night? Our kayak package includes all you need for kayaking and wild camp adventure.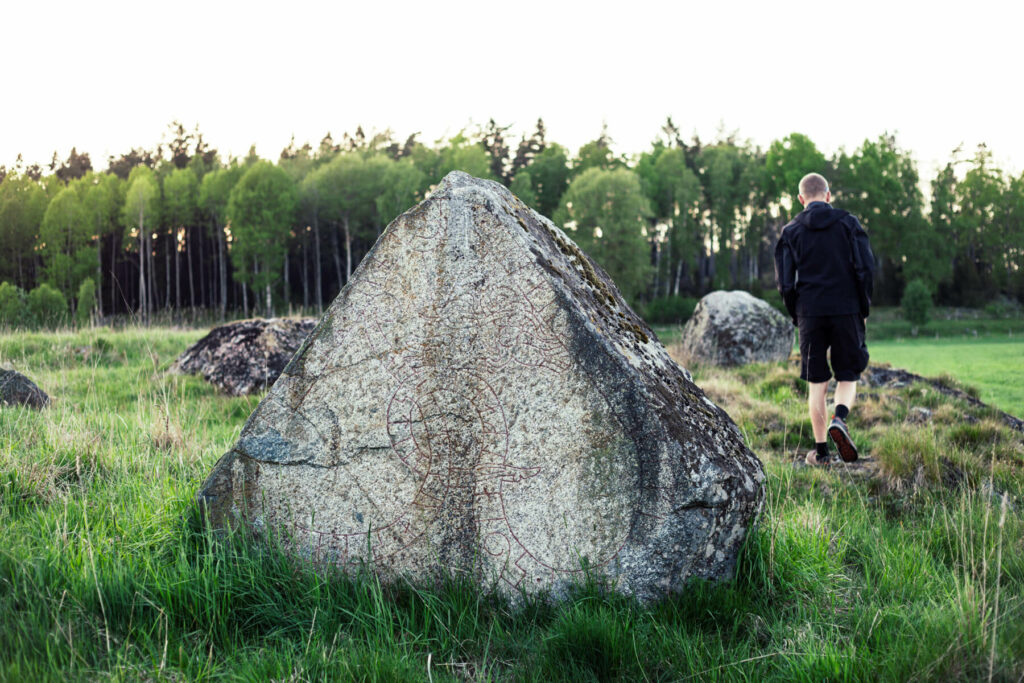 Explore Viking runestones
Vikings are a significant part of Scandinavian history. Vaxholm and Bogesund area was once home to Vikings over 1000 years ago. Today we can still see the gravefields and runestones from the Viking age at Bogesund.
Bogesunds Castle (Bogesund Slott)
Castle named after two of the most powerful people of the region's past, Count Per Branheand and Baron Nils von Höpken. Later the castle has been abandoned and today offers historical guided tours and other events.
Resarö Island and Ytterby Mine
The only place in the world with four elements named after it makes the tiny town of Ytterby the periodic table's most important place in the world.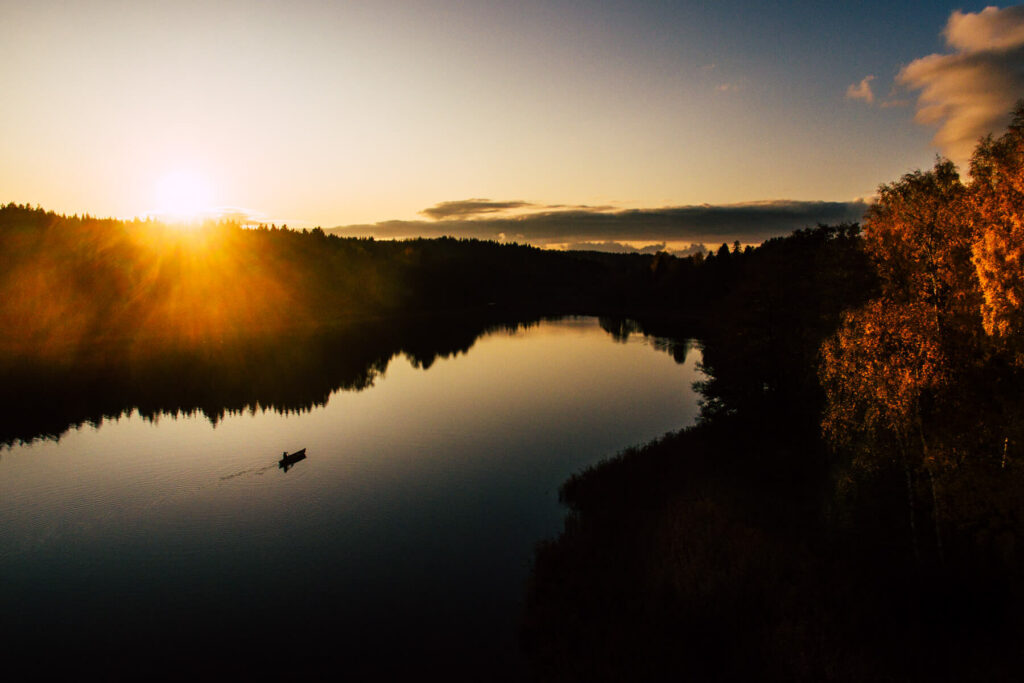 Rent a canoe and paddle through Bogesund Nature Reserve
Canoeing is a wonderful and very affordable way to discover the beauty of inner Stockholm Archipelago. Soak up breathtaking scenic views as you glide around Bogesund Nature Reserve and Watch out for native wildlife including beavers and coastal birds. Join our regular guided tours or simply rent canoe or kayak for your adventure. Want to stay overnight and try wild camping? We have all outdoor gear you will need to enjoy canoe trip with night in the woods. Check our canoe packages.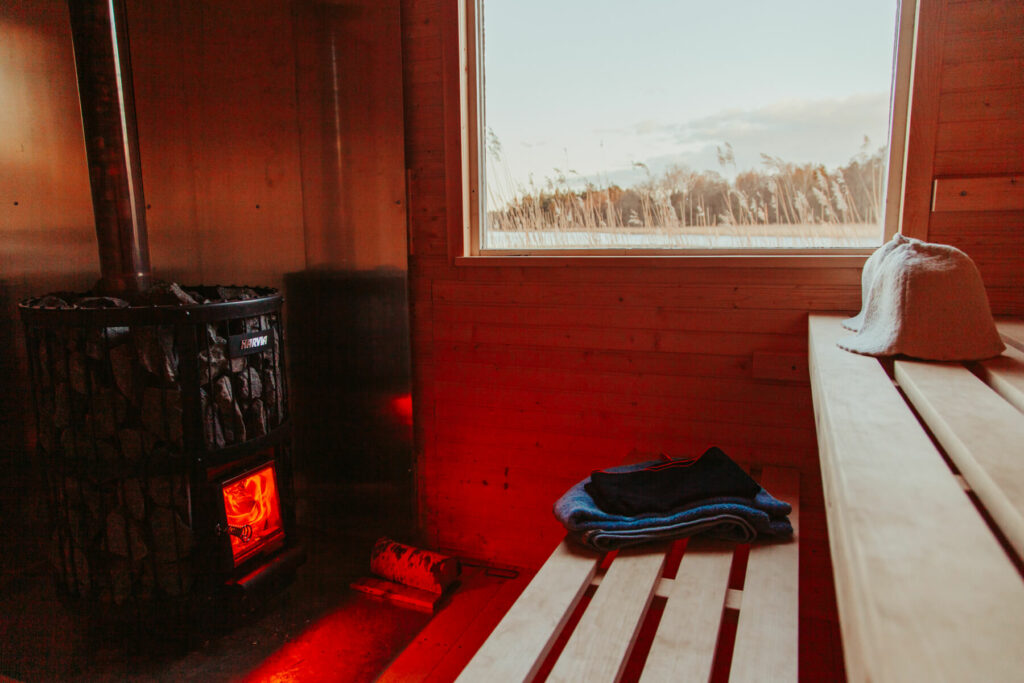 Try traditional swedish sauna
What can be better than bath in the Baltic sea followed by sauna and maybe a bottle of local beer? Our traditional wood burning sauna is located close to Vaxholm with wonderful sea view. Sauna session is also a good idea to end any kind of outdoor trip, especially when you feel a bit cold after winter kayaking or hiking in swedish woods.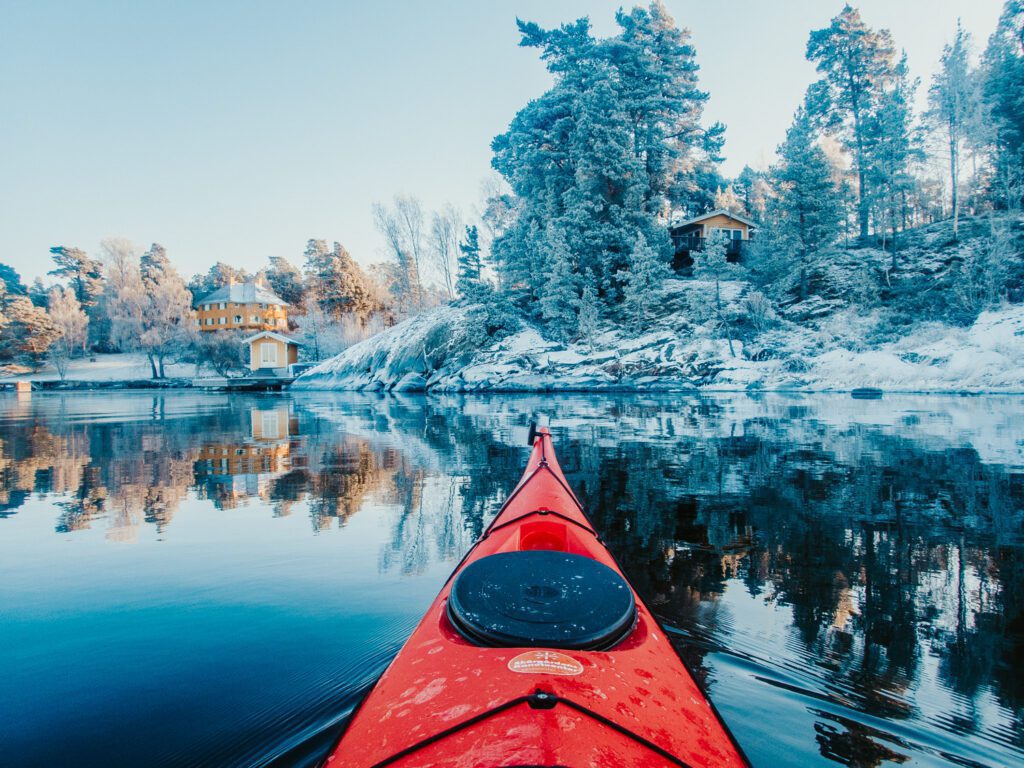 Winter kayaking in Sweden
Try winter kayaking! It is a memorable and purely magical experience and – what all our visitors say – the best thing they did with us when visiting Sweden and Stockholm Archipelago. Our winter tours in Stockholm Archipelago are absolutely bestsellers!
Valborg in Vaxholm
Last day of April we celebrate Valborg (Walpurgis night). Spring is greeted with songs and bonfires at public gatherings all over the country.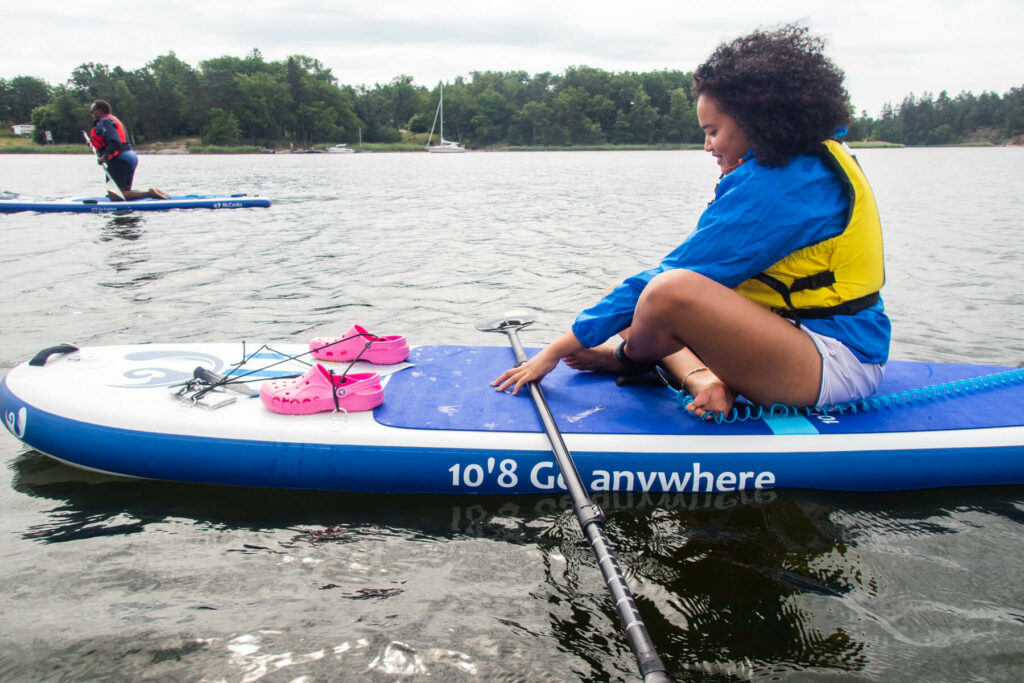 Try SUP paddling in Stockholm Archipelago
Vaxholm and surroundings offer top nature experience and stunning archipelago scenery for SUP paddling.
MTB and island hopping by bike
Looking for adrenaline experience? Mountain biking in Bogesund nature reserve is of the highest class. Leaf tunnels, meandering paths, bumpy rock sections and gravel roads stretched between fields and beaches.
You can also try island hopping by bike in Stockholm Archipelago. Two quick ferry rides will take you from Vaxholm to Rindö and then over Oxdjupet to Värmdö. The ferries are free of charge.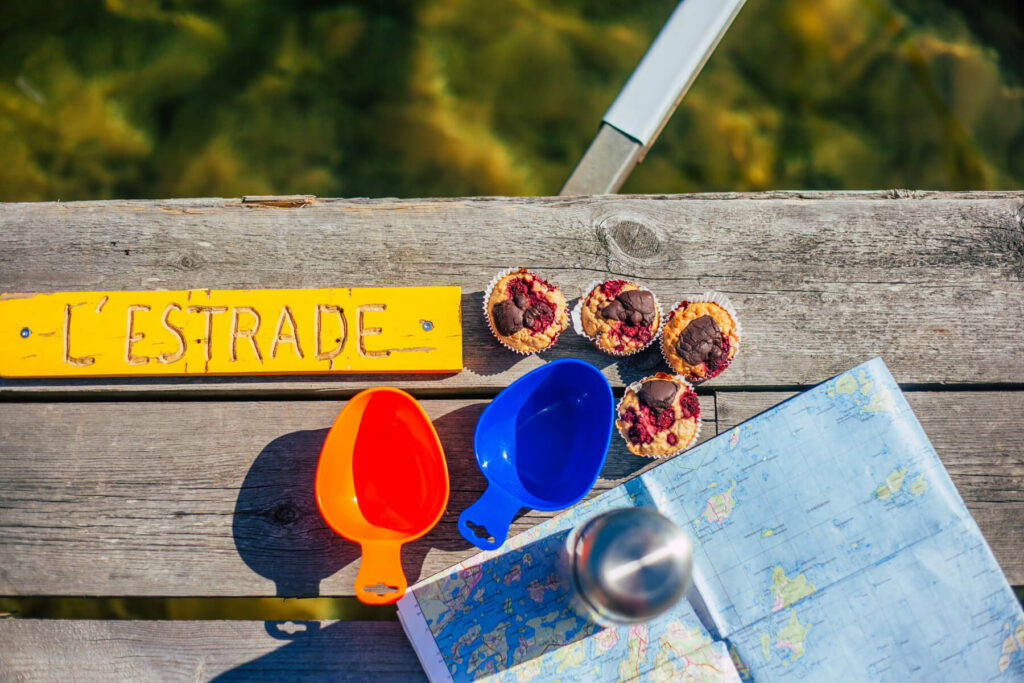 Hungry?
After so many adventures you deserve good lunch or fika! There are several cafés and restaurants in Vaxholm and neighboring islands with great, authentic Swedish food. Here our favorite ones!
Our favorite place! Make sure to try famous Vaxholmsströmming (local herring fish) – a delicacy that is still served at Vaxholm's tavern.
Delicacies fresh from the archipelago's waters are theirs specialty but meat lovers and vegetarians won't be disappointed.
Desserts wonderland! Feels like you are visiting your Swedish grandma. A place for all cake lovers!
Linda offers fantastic at-home lunch, fika and dinners, in the Greenhouse! Together with Linda in her lovely kitchen at Vaxholm Bed & Breakfast you can also take part in Swedish cinnamon buns baking.